Hooray! Your 1:1 Foods Holiday Collection is Here!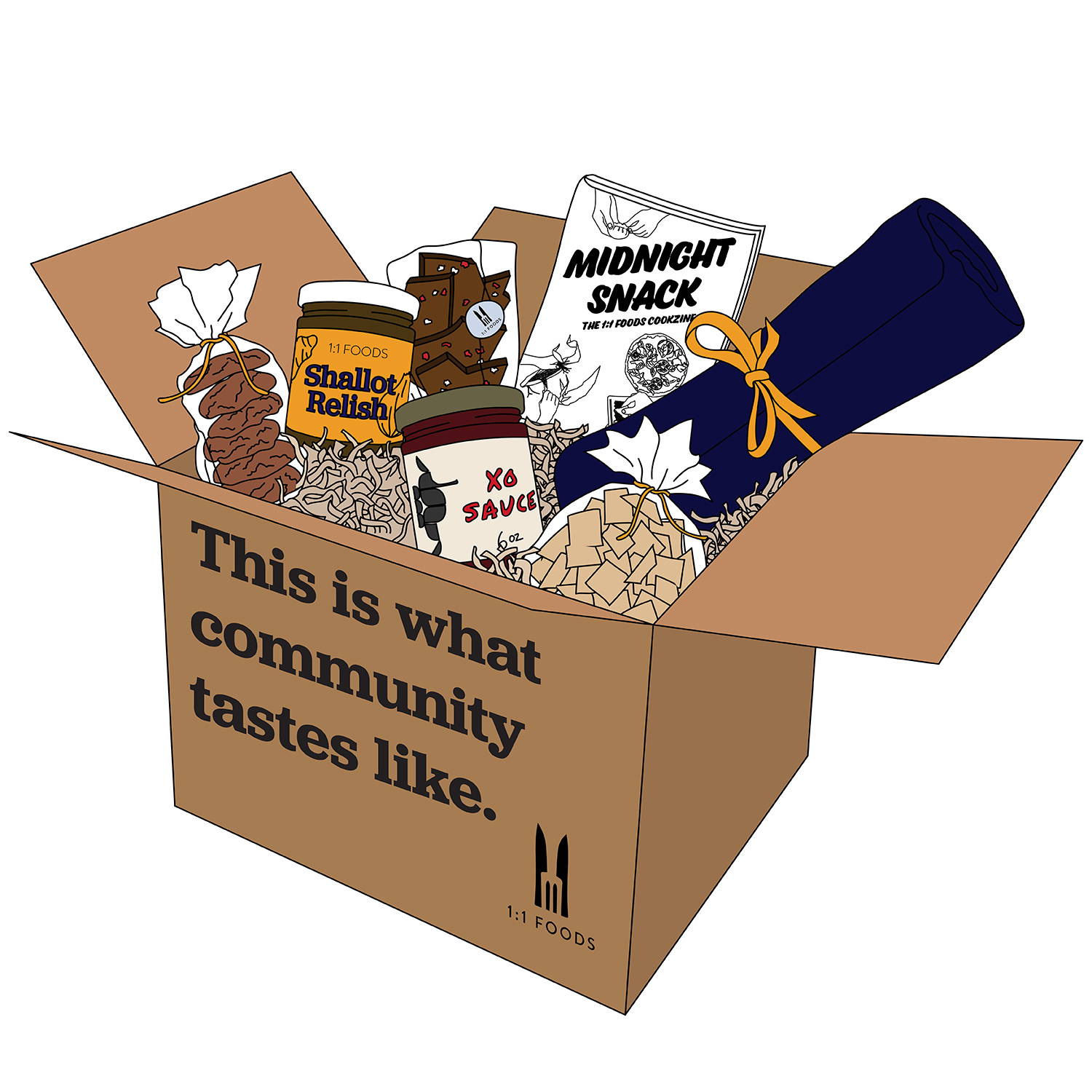 This holiday season, we curated this special gift box to celebrate and support local food businesses and to fuel our ongoing food relief work in Brooklyn and throughout the city. Every goodie you find inside your box was crafted with love by our small 1:1 Foods team and by our local partners: The Pixie and The Scout, Eleven36, HAEMA, and ARV Sweets. Below you'll find all the info you need on everything in your box!
Our inaugural "cookzine", with special family recipes, intros to our team, and interviews with local food change-makers!
Design by Nat Belkov

Cover by Duncan Conway
Content by Victoria Yan
This tote is guaranteed to make everyone at your local farmers market very jealous.
Design by Nat Belkov
HAEMA's version of XO, a seafood-based condiment originally from Hong Kong, delivers tons of umami and the perfect quiver of heat. Use it to take your stir fry game to the next level or dollop it on rice, eggs, noodles, roasted veggies.
Allergens: shellfish, soy

Refrigerate after opening. Maintain a layer of oil on top to extend shelf life.
The 1:1 Foods take on a classic condiment -- caramelized onion jam. An unctuous, savory relish you can put on just about anything (think breakfast toast, your fav cheese, or roasted game/fowl)!
Allergens: none
Refrigerate upon receipt. Consume within 2-3 weeks.
Dark Chocolate Bark with Marcona Almonds & Sel Gris
Luscious handmade dark chocolate bark with sea salt and macadamia nuts. Break off a corner for the perfect sweet-bitter morsel day or night.
Allergens: nuts
Dairy-free & Gluten-free!
Indulgent holiday brownie bites with a hint of spice! Made with ARV Sweets' specialty Mexican Brownie recipe.
Allergens: gluten, dairy
GF Flatbread Crackers with Sea Salt & Olive Oil

Gluten-free, small batch, entirely snack-able. Pair with your favorite soft cheese and a dollop of our Shallot Relish!
Allergens: none
Gluten-free!
Our take on the classic ginger and molasses holiday cookie. Thin, soft and chewy, with plenty of ginger kick!
Allergens: gluten
Have other questions about your Holiday Collection box?
Shoot us an email any time at hello@1to1foods.com. We'll get back to you immediately!